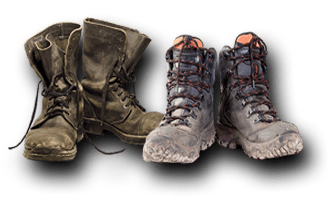 Welcome to Essential Gear!
The Necessities - Everything To Make You Mission Ready
Essential.
Fundamental.
Principal.
Crucial.
Why Essential Gear?
Every journey requires preparation. We are adventurers on the adventure of a lifetime and soldiers engaged in the greatest military campaign of all time! Therefore, our packs must be carefully packed with tools and weapons that are essential. When every ounce in your pack makes a difference, it's important that each item be relevant and precisely chosen.
Essential Gear is a condensed, power-packed package of truths or essential elements that is enough, along with a personal devotional life, to sustain any believer in their journey with God.
Aptly named, these teachings parallel what a soldier needs in his pack in order set out on any mission. Remember, as warriors enlisted in the Army of God, we are following our God and He is bent on conquest!
For the newly saved Christian, these truths will help establish and settle you in your walk with God. From learning how to engage in spiritual warfare to learning how to overcome hurt and bitterness, both of which are inevitable in this life, you will be equipped with what you need to go on to full maturity in Christ. For the seasoned believer, it is always necessary to hone convictions and inspect our spiritual "walls," as in Nehemiah's day, to make sure there are no cracks or broken down areas of disrepair. After all, in the Kingdom of God, there is no such thing as "having arrived." As long as we are on this earth, there is wisdom to be gained, ground to be taken, lives to be fought for and victories to be won.
So, grab your pack! Fill it with these essentials and maintain your daily devotional life, and you will find yourself on the greatest journey of your life!

Having thus chosen our course,
without guile and with pure purpose,
let us renew our trust in God,
and go forward without fear and with manly hearts.
Abraham Lincoln
MRE.
Meals, Ready to Eat.
Big things come in small packages.
An MRE, "Meal, Ready-to-Eat," is a small self-contained, packaged field ration. They are largely used in combat situations when a mess hall is just not an option. They must be able to withstand parachute jumps and deep-sea dives and take up as little space as possible in the rucksack. Also, the nutrient combination is meant to be efficient for an active soldier's physical demands. Small package, big punch.
That's how we like to describe these few resources. They're shorter in length and can be "consumed" quickly, but yet supply life-sustaining spiritual nutrients for you. Take them everywhere. Print out the tract. Stuff them in your pack. You never know when, in the line of duty, you'll need a quick, yet powerful, spiritual food ration.
These Are The Facts
Salvation to maturity in Christ. Essential personal tool. Essential revival tool. Winkie Pratney lays out very practical wisdom to guide a person along the journey from initial introduction to Jesus to salvation to walking with God.
"Herein is love; not the we loved God, but that He loves US and sent His Son to be the way through which we could be forgiven and come back to Him."
THERE IS NO TIME LIKE NOW...
GOD HAS DONE EVERYTHING HE CAN FOR YOU...
THE NEXT MOVE MUST BE YOURS!
Print it out and take it with you. Share it with anyone. Every person needs this. Just click the title below.
THESE ARE THE FACTS
Revival Fire
A compilation of fiery snippets from many fathers in the faith. It puts us on our knees before God. May the Lamb Who was slain receive the reward of His sufferings.
Four Spiritual Laws
Just as physical laws govern the universe, God has spiritual laws that govern our lives.
God loves you and created you to know Him personally.
Man is sinful and separated from God, so we cannot know Him personally or experience His love.
Jesus Christ is God's only provision for man's sin. Through Him alone we can know God personally and experience God's love.
We must individually receive Jesus Christ as Savior and Lord; then we can know God personally and experience His love.
This is an excellent evangelistic tool. Written by Bill Bright, founder of Campus Crusade for Christ, in the mid-50s, it provides instruction on how to establish a relationship with Jesus. You can click below for the online version.
THE FOUR SPIRITUAL LAWS
The Coming of Jesus Is at Hand
Jesus, God's only Son, said He would come back in the clouds, surrounded by a great number of His holy angels.
What does Jesus' coming mean to you? Why should you care or even be concerned? What will matter will be Jesus and if you knew Him as Savior and Lord. If Jesus came now, would you be ready to meet Him or would you be eternally lost?
No one knows the day or the hour of Jesus' return but be sure of this, the coming of Jesus is that hand!
The Coming of Jesus Is at Hand is another great evangelistic tool. For many, the coming of Jesus can seem unrealistic or even scary. This tract simply, yet profoundly, addresses His coming and urges all to be prepared and in holy anticipation.
Click the link below to download.
Daily Prayer Life
Developing a daily devotional life can be a challenge. If you are a new believer, you may feel overwhelmed or unsure of where to start or how to do it. The 29:59 Plan is a great resource to help you establish a daily habit of prayer and devotion and will help you learn how to pray.
We recommend the printed verson. It's worth the investment. Just click the title below.
THE 29:59 PLAN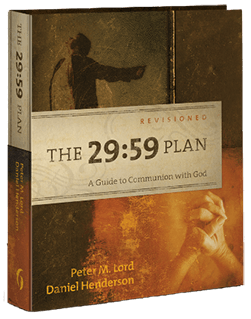 *We are not receiving compensation to promote this product.
Daily Bible Reading
Genesis to Revelation can be intimidating at first!
However, once you start reading, you'll find that the Bible is alive and full of examples of how God speaks to man and directs him in every day life. In fact, it's as alive today as it was the day God wrote, with His finger, the Ten Commandments on the tablet while communing with Moses on the mount.
There are many excellent reading plans available from a variety of sources. Some of the ones we would recommend are listed below.
Also, if you need to choose a Bible, we would recommend The Daily Bible. It's in chronological order and is broken up into 365 daily readings. It's a great Bible if you're in limbo over which one to choose. Clicking the title below will take you to Amazon where you can choose hardcover, paperback or ebook format.
THE DAILY BIBLE